Join The Team
Join The Team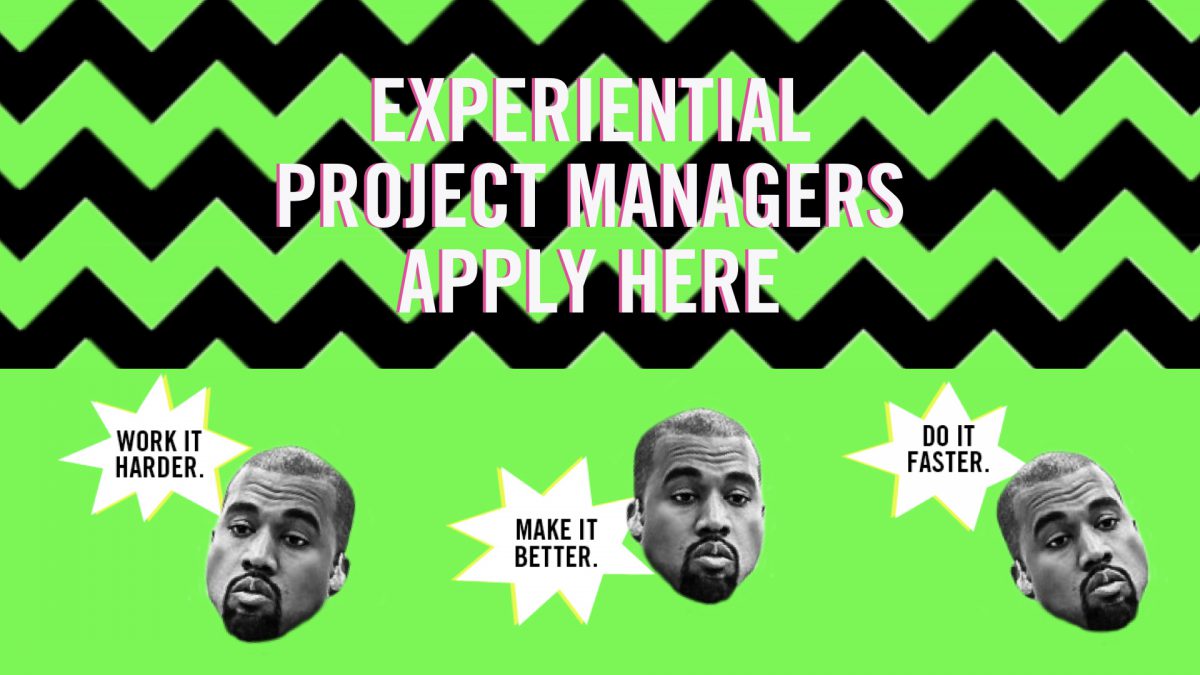 Hyperactive is looking for an exceptionally talented experiential project manager to join our rapidly expanding team.  
Project Manager Job Description
You will have a strong understanding of experiential and events having come from an agency background, and will thrive on seeing projects through from inception to final delivery.
This is an opportunity to help grow, develop and shape the future of Hyperactive, who in two years have built an exciting client roster that includes TAG Heuer, Eurostar, Carlsberg, Beats by Dre, Maynard Bassetts, Hunter Boots.
Organisational skills and efficient methods of working will be mandatories for success in this role with this ambitious and passionate team.
If you would like the freedom to own projects, manage budgets and expand your skillset then keep reading…
Responsibilities
Strong understanding of experiential and events: understanding the nuances of both production and account management
In collaboration with creative and client teams will be responsible for the seamless delivery of projects ranging from pop-up shops, stunts, sampling activity, partnerships
Manage production partners to maintain high quality delivery of campaigns including set designers, staffing agencies, designers, venues etc
Work alongside producers to realise concepts into live activations
Thinking on the spot to test, learn and adapt activations to ensure the best results
Ensure solutions are in line with strategic objectives and evaluate performance
Establish processes for project status reporting with internal team, partners and clients
Pro-active approach to problem solving and diplomatic approach to negotiation
Proven ability to be fully client facing and lead presentations & reviews, facilitating feedback and amends when necessary
Ability to work both individually or collaboratively as part of a team
Be an exceptional people person, growing solid relationships with clients and partners
Keep on top of innovations, mainstream culture & social media trends
Essentials
A minimum of 3 years experience at experiential agencies
Pro-active with a start-up mentality
Ability to articulate ideas verbally and in presentation writing
Strong budget management skills, including running live budgets and reconciliations
Be an ambitious and collaborative team player
Have the capability to multi-task and run simultaneous projects
Knows how to prioritise and has the ability to manage deadlines
Working knowledge of Keynote, PowerPoint and Excel
Thrives when working in a fast paced, every changing environment
If you are interested in applying for this role, please drop us a note at hello@wearehyperactive.com and include your CV and salary expectations.